Disabled Persons Freedom Pass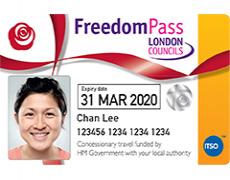 This freedom pass gives people with disabilities free travel on buses, trains, trams, tubes and Docklands Light Rail services in London. It also allows free travel on local buses elsewhere in England.
Who can get a Disabled Persons' Freedom Pass
To get a Disabled Persons' Freedom Pass from us:
And
You must have one or more of these statutory disabilities, listed in the Transport Act 2000. You can get a Disabled Persons' Freedom Pass if:
You are blind or partially sighted
You are severely or profoundly deaf
You are without speech
You have a substantial and long-term adverse effect on your ability to walk
You don't have arms or have long-term loss of the use of both arms
You have a learning disability
You have conditions which would prevent you from obtaining a driving licence
Apply for a Disabled Persons' Freedom Pass
Please complete this application form if you think you may qualify for a pass.
To complete this form, you will need:
Proof of ID
Proof of address
A copy of a passport quality photograph (JPEG or PDF file formats only).
Please note: photo must be of your head and shoulders, facing forward, against a plain background and printed to a professional standard, taken in the last 3 months, on plain white photographic paper with no border and in colour, clear and in focus without creases or tears. This can be taken on a smartphone providng the quality is good and meets the requirements as listed above.
Registration number (if registered as sight-impaired or hearing-impaired)
NOTE: If you do not fully complete the application form or if you fail to provide the evidence we need, we won't be able to complete your application and it will be closed 4 weeks from the date we receive your application.
Documentary evidence can be uploaded to this online application form or emailed to assisted.travel@barnet.gov.uk (accepted file formats include PDF, Word DOC, JPEG, PNG, etc.) or it can be posted to: LB Barnet Assisted Travel PO Box 6510, Coventry, CV6 9NF
Please have all your information ready before you start as this form has a time limit of 20 minutes per page and information cannot be saved to be sent later.

This form will take between 20 to 30 minutes to complete depending on the type of assessment chosen.